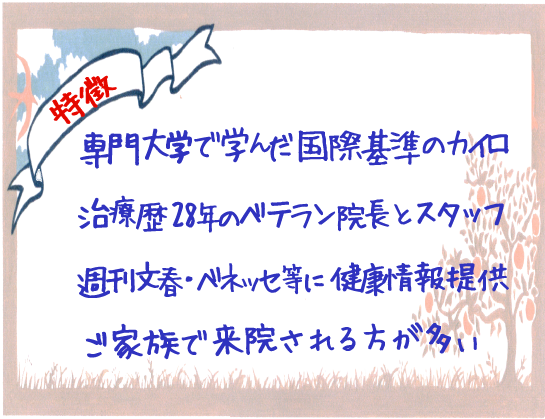 The World Health Organization (WHO) encourages those who want to practice chiropractic to meet the global standard of chiropractic education accredited by official associations. This qualifies one as a chiropractor anywhere in the world.
| | | | | | | |
| --- | --- | --- | --- | --- | --- | --- |
| | | | | | | |
| | We fully explain your concerns of health and treatment plans in a tailor-made way. | | | | We discuss with each patient to establish the best available treatment plan based on the individual needs. | |
| | | | | | | |
Free Lecture about Chiropractic

It should take less than 20 minutes, and a patient can request the length of the lecture upon the availability.

We treat patients from infants to elderlies


Chiropractic is one of the well-known and widely used CAM therapies in the world. Chiropractic Care assists you to minimize health problems or to prevent them from even happening, by normalizing the nervous system and maximized "Innate Intelligence". Many start realizing the effectiveness of chiropractic as a primary health care provider, and leave medicines and surgery as a last resort.
Clinic Policies
Relief
WECARE Chiropractic & Natural Care has the following policies to provide patients of the best available and satisfactory care.
WECARE employes only those who hold certificates from an accredited educational insitution, which is indispensable requirement to serve patients as a health care provider. Thus, Staff of WECARE have acquired the necessary knowledge and skills to solve health problems, as well as untiring efforts to refine them for even better health care.
WECARE assigns mandatory workshops more than 8 credits/month for the Staff to constantly improve their own knowledge and skills.
WECARE trains the Staff to become clinicians who warmly welcome a patient with pain/health problems, carefully seek the root of these problems, and unstintingly share their best knowledge and skills with the patient for optimum health.
We pay special attention to cleanliness at WECARE.
Knowledge and Skills
WECARE staff put untiring efforts to expand the knowledge and polish the skills, to live up to the patient's expectations.
Mission
WECARE pursues the shared aims with patients to achieve individual optimum health. WECARE respects patient preferences, and integrate them with our expertise and the best available evidence for healthier life. We pay special attention to the body system as a whole while considering the symptoms as well, to determine what a patient needs and what is best for her in the long-run.
Responsibility
We have responsibility for our duties to provide patients of the best available care.
Q&A
Does chiropractic treatment do more good than harm to me?
Chiropractic manipulation, so-called adjustment, is a main approach to most of patients in chiropractic offices. This is a well-trained technique to correct spinal segmental disorders anatomically or functionally. It may cause cracking sound like knuckle-craking, but following pain rarely occurs.
Same as other treatment, adjustment does have contraindications that need to be identified before treatment begins. Other physical features and underlying diseases also need to be carefully considered, so as to select the most appropriate approach possible.
In a nutshell, treatment plan has to be designed with special caution about individual conditions at present, and to be fully explained to the patient. This requires well-educated ability to evaluate patients in an efficient and timely manner.
Patients should be aware that you are entitled, without hesitation, to consult any questions or requests to your doctor. WECARE doctors are more than welcome to discuss any concerns that you may have, and provide you of the best tailored treatment possible.
How long does the treatment take?
First visit takes 1 hour for medical interview, clinical examination, consultation and treatment, and the following visits take 30 minutes.
How much does it cost?
Treatment fee is between ¥5,500~¥6,500, depending on an individual condition. First visit charges you extra ¥3,000 for examination. Following visits do not include this examination fee.
Due to legal system in Japan which has not supported yet, chiropractic may not be insured. However, the fact of long-run chiropractic offices indicates the quality of treatment provided. Otherwise, who would visit a costly office for ineffective care?
How many times do I need to visit?
The number of visit and treatment depends on individuals, such as severity or duration of one's health problem, life style, age, vitality, work and financial conditions, and so on. It can also depend on how well a patient's body will respond to the treatment provided, and how much one does exercise prescribed rigorously and properly.
WECARE is happy to discuss with each one of patients to decide as effective and satisfactory treatment plan as we can.
Can I receive chiropractic care even if I am pregnant or elderly, or have disease.?
Almost all, from infants to elderlies, can receive chiropractic treatment because chiropractors identify a patient's problems and conceivable consequences to the treatment. Further, chiropractic technique is not fixed, but flexible enough to adapt a patient with variety of conditions.
You may want to consult doctors any concerns you may have at anytime of your visits. Feel free to ask the doctors, and we do want to know more about you to offer the optimum care that we can.